Training & Seminars
Click here for directions to Eclectic Motorworks and for a list of nearby hotels.
Eclectic Motorworks offers a variety of classes for all skill levels. For information on a particular class, please click below.
MGB & Unibody Rust Repair and Welding Seminar - Spring 2013
MGA & Body-On-Frame Rust Repair and Welding Seminar - Spring 2013
Tuning and Performance- February 9-10, 2013
Hot Rod Chassis Seminar - TBA, March 2013
All seminars are held at Eclectic Motorworks unless otherwise indicated.
Cancellation Policy: Eclectic Motorworks has instituted a new cancellation policy for all seminars. Cancellations received more than 14 days prior to the seminar will receive a full refund. Cancellations between 8-14 days prior will receive a 50% refund. There will be no refunds for cancellations 7 days or less from the date of the seminar.
In 2005 and 2006, we hosted 70+ people each time for excellent seminars with Fay Butler. He discussed the principles of metalshaping and did several demonstrations using the Planishing Hammer, English Wheel, Pullmax, and basic hand tools. Fay Butler offers excellent hands-on workshops at his shop in Massachusetts, and occasionally offers workshops at other sites. Contact him at fayfab@mindspring.com.
In 2001, 2002, 2006, 2007 and 2008 Eclectic Motorworks hosted Ron Covell's workshops. Here's Ron working a panel on our English Wheel. Ron offers seminars around the country. Contact Ron at (800) 747-4631 for more information. Ron is also coming back in 2010!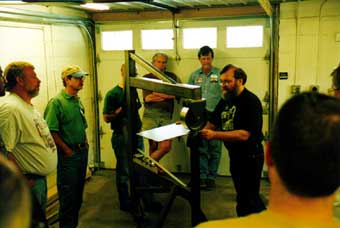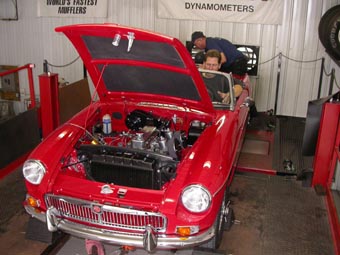 An MGB on the chassis dyno during October 2004's Tuning for Speed.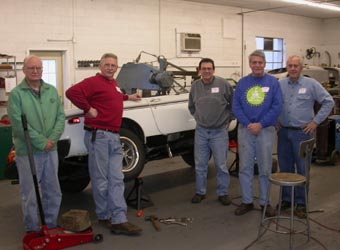 Participants from the January 2007 MGB Sheetmetal Restoration course.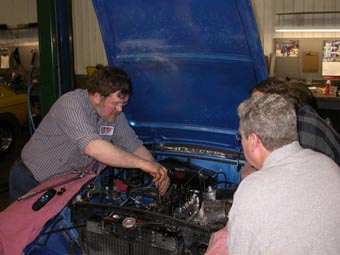 John Twist demonstrating tuning techniques during February 2005's Tuning for Speed.
Events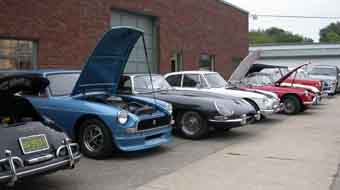 Our open house in August 2006 featured a small car-show in our parking lot. Watch your mailbox for postcards detailing more upcoming events!