Training & Seminars
Click here for directions to Eclectic Motorworks and for a list of nearby hotels.
Eclectic Motorworks offers a variety of classes for all skill levels. For information on a particular class, please click below.
Ron Covell visits Eclectic Motorworks
August 12-13, 2017
Ron Covell has visited Eclectic several times over the years, teaching us everything from the basics of steel and aluminum fabrication to building a replica '36 Ford fender. In just a little over two weeks he will return - this time he will demonstrate how to build a track nose.
Saturday, August 12, 2017 - Building Buck for Track Nose Workshop In this class, we will discuss the materials that bucks can be made from, different strategies for joining the parts, and the complete procedure for making a stylish buck. We will show how the buck can be modeled from photographs, from drawings, or simply created 'on the fly'. Lots of advice will be given about how to keep the project from 'going wrong'.
Sunday, August 13, 2017 - Building Track Nose Workshop After completing the buck in the Saturday workshop, we will discuss ways to make patterns for the metal pieces that will become the nose. Various methods of cutting and shaping will be demonstrated, and finally, the pieces will be fitted, trimmed, welded, and smoothed for the final finish. Time is running short - register for either day (or both!) by visiting Ron's website at http://www.covell.biz. Don't miss this opportunity to see this seminar being offered at Eclectic for the first time ever!
Rust Repair & Welding
TBD
MGB / Unibody Repair and Welding classes are two day classes that covers sheet metal forming, welding, patch panel installation, and sill/pillar repair. Individual classes focus either on "body-on-frame" cars using the MGA as an example or unibody cars using an MGB for demonstrations. The first day focuses on general skills and welding, with hands-on time for welding instructions. The second day continues to focus on building welding skills as well as working on the specifics of unibody restoration using an MGB as a demonstration vehicle. Part of the second day is spent correctly fitting doglegs, fender bottoms, rockers, etc.. Class size is limited to 6 participants. The class costs $495 and includes lunch and snacks both days as well as Saturday night dinner.
Rust Repair & Welding class printer-friendly registration form (PDF)
Tuning for Speed - in conjunction with University Motors LTD
TBD
Tuning for Speed is a three-day class geared toward British car owners, but also useful to other classic car enthusiasts. We cover the basics of a comprehensive tune up, various parts and procedures to get more from your car and in-depth performance discussions that include various performance "recipes" from mild to full-race. During the first day, we perform a hands-on, comprehensive tune on an MGB, where we torque the head, adjust the valves, work with with ignition system, and dial-in the carbs. Participants receive our 145-page Tuning and Performance manual which includes about 21 articles and data/analysis from over 1000 dyno pulls. The class costs $495, lunch each day and dinner on Friday and Saturday are included in the price.
All seminars are held at Eclectic Motorworks unless otherwise indicated.
Cancellation Policy: Eclectic Motorworks has instituted a new cancellation policy for all seminars. Cancellations received more than 14 days prior to the seminar will receive a full refund. Cancellations between 8-14 days prior will receive a 50% refund. There will be no refunds for cancellations 7 days or less from the date of the seminar.
In 2005 and 2006, we hosted 70+ people each time for excellent seminars with Fay Butler. He discussed the principles of metalshaping and did several demonstrations using the Planishing Hammer, English Wheel, Pullmax, and basic hand tools. Fay Butler offers excellent hands-on workshops at his shop in Massachusetts, and occasionally offers workshops at other sites. Contact him at fayfab@mindspring.com.
In 2001, 2002, 2006, 2007 and 2008 Eclectic Motorworks hosted Ron Covell's workshops. Here's Ron working a panel on our English Wheel. Ron offers seminars around the country. Contact Ron http://www.cozvell.biz for more information.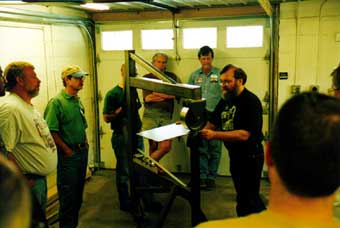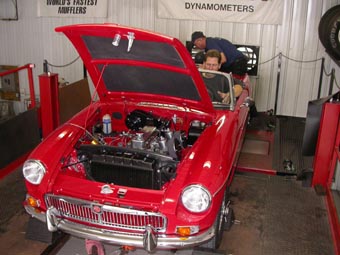 An MGB on the chassis dyno during October 2004's Tuning for Speed.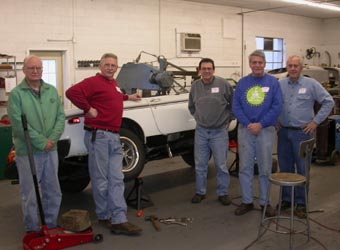 Participants from the January 2007 MGB Sheetmetal Restoration course.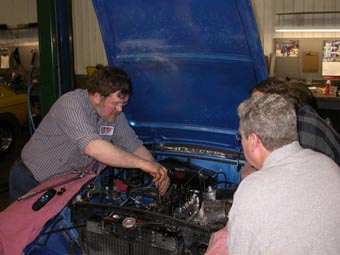 John Twist demonstrating tuning techniques during February 2005's Tuning for Speed.
Events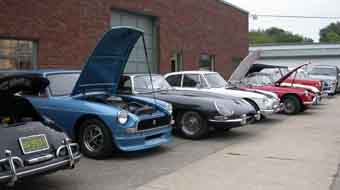 Our open house in August 2006 featured a small car-show in our parking lot. Watch your mailbox for postcards detailing more upcoming events!